Providing Assurance Of Quality And Performance
"Being told by a manufacturer that a product is high quality is all well and good, but how can you know for sure unless the manufacturer is willing to stand behind their products and back that up."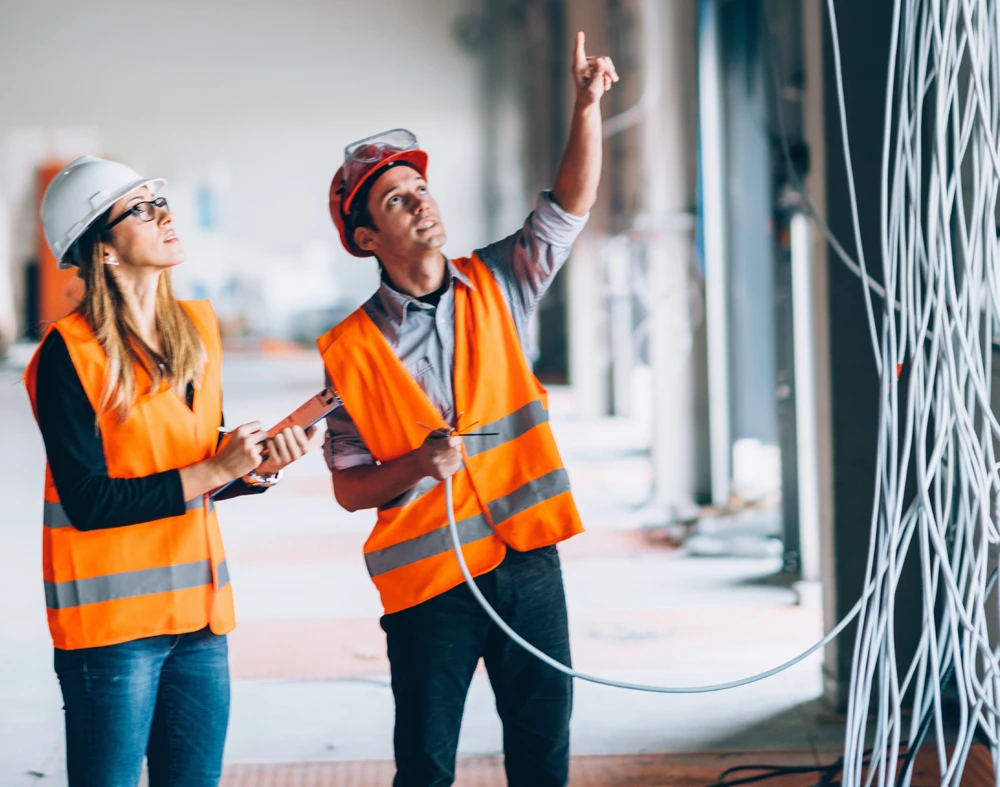 25yr Product Warranty
At DINTEK, we understand that investing in network infrastructure is a significant decision, and ensuring the long-term reliability of your investments is crucial.
That's why we proudly offer our customers a robust and comprehensive 25-Year Warranty System that reflects our commitment to quality, durability, and customer satisfaction.
There are two warranty types offered. The first is the 25yr product warranty. The second is our comprehensive System Warranty.
The DINTEK 25yr Product Warranty, warrants that the products covered are free from physical defects and that with normal and resonable usage should continue to work for a period not exceeding 25 Years from the date of purchase.
25yr System Warranty
Obtaining a DINTEK 25 Year Warranty will provide the recipient with the security and assurance of knowing that their installed DINTEK cabling system will provide the performance and stability they need to meet their long term networking needs.
The DINTEK System Warranty offers a 25 year standards based, system performance and application assurance warranty, that applies to all certified and registered DINTEK cable links in an installation project.
The program warrants that these links will meet minimum performance requirements, as specified in the relevant ANSI/TIA or ISO Commercial Building Telecommunications Cabling Standards.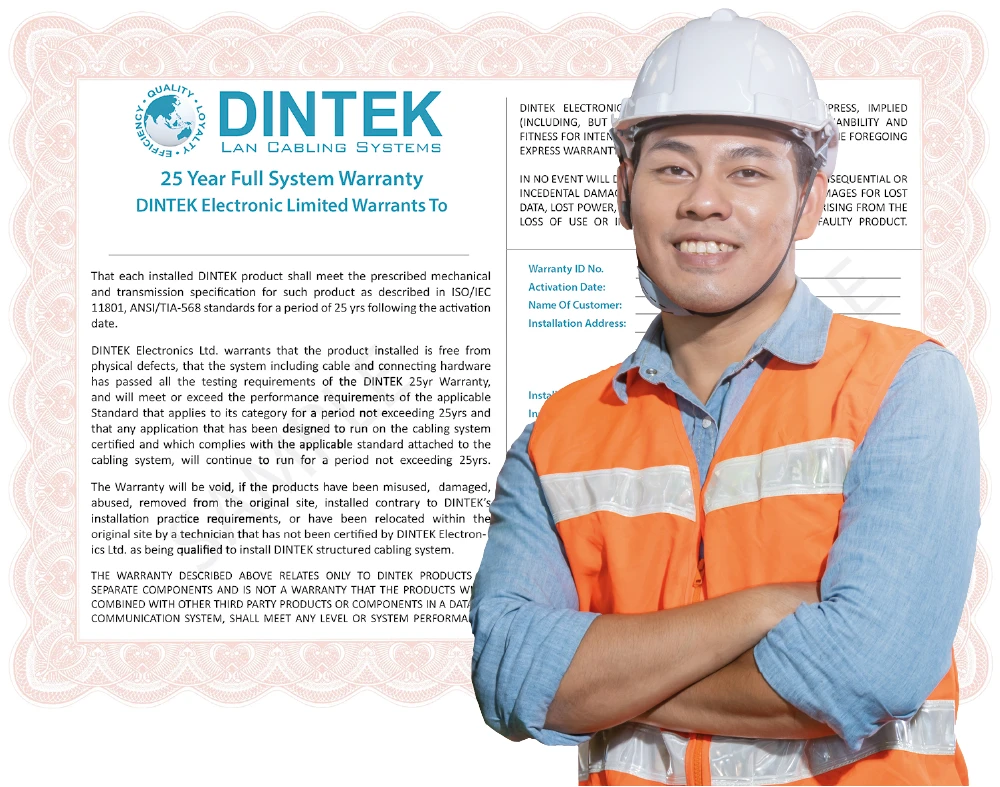 Warranty Components
The DINTEK 25Yr System Warranty is made up of three separate components which work together
to provide the customer with peace of mind for many years into the future.
Product Warranty
The Product Warranty component certifies that all products covered by the warranty that are part of the structured cabling system, will be free from defects in material and workmanship, under normal and proper usage for a period up to 25 years.
System Performance
The System Performance component certifies that cable and connecting hardware that has been warranteed will meet or exceed the performance requirements of the rated standard that applies to its category for a period up to 25 years.
Application Assurance
The Application Assurance component states that any application that has been designed to run on the cabling system certified and which complies with the applicable standards relevant to the cabling system , will continue to run for a period up to 25 years.
What is Covered?
The DINTEK System Warranty is designed to provide comprehensive coverage and assurance for a range of products, ensuring the longevity, reliability, and performance of your network infrastructure.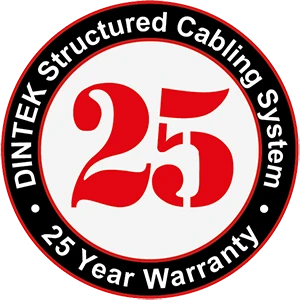 Products
They 25 Year warranty will certify that DINTEK products covered will be free from any defects.
Standards
The 25 Year warranty will certify that the cabling system complies with the latest relevant ISO & ANSI/TIA standards.
Installation
The 25 Year warranty will certify that the cabling system has been installed by qualified DINTEK installers.
Performance
The 25 Year warranty will certify that the cabling system will perform for at least 25 Years.